Morman Well Road. Broken into Aprox 5 mile sections for coordination and tracking.
Overview
[
Section 1
Corn Creek Field Office to Gas Peak Rd.
Section 2
Gas Peak Rd. to Yucca Forrest
Section 3
Yucca Forrest to Pine Nut Rd.
Section 4
Pine Nut Rd. to Service Rd.
Section 5
Service Rd. to Campsite
Section 6
Campsite to Sawmill Canyon
Section 7
Sawmill Canyon to Elbow Canyon (unmarked curve)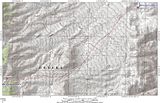 Section 8
Elbow Canyon to Boundary or HWY 93
_________________
KF7JTM
Caution!!! This Vehicle Makes Frequent and Sudden Stops. (For Lizards!)
Rescue Ranger & Training Dummy
I'm not stuck, I'm providing recovery training opportunities!